Nieuws/
3 Days of Sitecore Symposium, Orlando
8 november 2019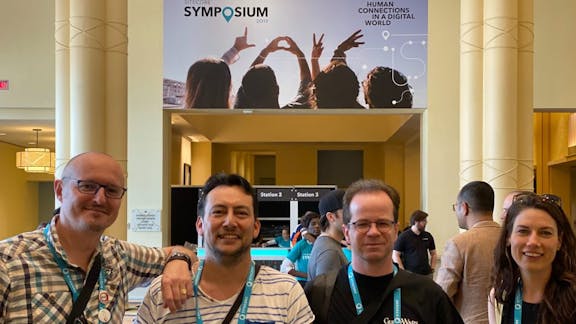 1. Day 1
Sitecore Saas & Personalisation
1.1

Sitecore-as-a-Service

It started with a keynote about all the new goodies in Sitecore for the coming months and years. A few of these exciting things are more integration with the Content Hub, collaboration with Microsoft to create the Sitecore AI, but most of all (from my perspective) the announcement of Sitecore Saas. Or actually just Saas, Sitecore-as-a-Service. A new way of working with and developing for Sitecore.

1.2

Human Connections in a Digital World

Takeaway of this keynote is personalisation. The motto of Sitecore is "Human Connections in a Digital World". Customer Experience is what it is all about. Everything which Sitecore does is centered around this. Not the hosting, not implementation, no, it's all about CX. Engaging your new and existing customers, that's what your goal should be.
2. Day 2
Human Perception ai & Sitecore Horizon
2.1

A worrying keynote for breakfast

Dr. Rana el Kaliouby, a pioneer in Human Perception AI started the day. She showed great examples of the usage of face, using emotion to effectively sense emotions in all kinds of fields, like advertisements, illness diagnosis and hiring people. Great, but dangerous. Wonder where this is going in the near future. Even more important that theFactor.e remains Human First.

2.2

Sitecore Horizon: just what we need

The first session was a real 'I want this, I want this, I want this!!' session. Sitecore Horizon. Something that is talked about for a long time, but now fi-na-lly becomes available in Sitecore 9.3, in about four weeks time. Sitecore Horizon is a completely new way to look at editing your pages in Sitecore. Not the Content Editor, not the Experience Editor, but Horizon. Simple, intuitive, autosave, undo/redo, and more. But without all the bells and whistles of the other two tools. Absolutely looking forward to dive into in a few weeks time!
3. Day 3
Magic & Return on Investment
3.1

Magic Johnson

The morning kicked off with the much-anticipated keynote of none other than Magic Johnson. You might know him has one of the best basketball players of all time, but nowadays he is, among many other things, a great motivation speaker. With lots of funny anecdotes he got the point across that the competition is what's making you better.

3.2

The ROI of Customer Experience

The final session we attended was about putting the 'R' in 'ROI'. Which stands for Return of Investment, in case you didn't know. It was like being back at Economics class at school. Lots of tables and numbers. But we still managed to get to the point of this: even a small amount of extra margin per item goes a long way for the whole company. Which is what was done by a small company, using Sitecore personalisation.
Summarizing highlights: Sitecore AI, Sitecore Saas and Sitecore Horizon
To finish things off, we had the closing keynote, in which all the new goodies were summarized: Sitecore AI, Sitecore Saas, Sitecore Horizon. All great topics to look forward to in the coming months! After the compulsory awards, prizes, final words, they announced the location for next year's Symposium: Chicago! Never been there, yet ;-).